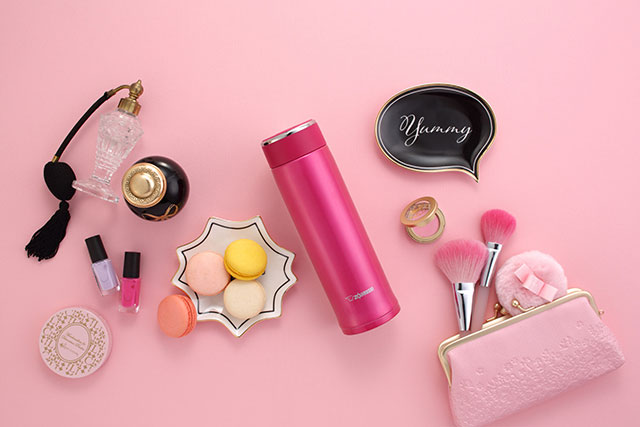 We love our elegant new Stainless Mug (SM-LA36/48/60)!
These sleek mugs are ultra-lightweight and are perfect for carrying in a bag or purse, no matter where you're going. They come in 12, 16 and 20 ounce capacities so you can take as little as one-and-a-half cups to as much as two-and-a-half cups of your favorite beverage with you.
We've designed these mugs to be sophisticated and versatile. They come in four colors—Deep Cherry, Rose Gold, Turquoise Blue and Navy—to suit any style, and can be used for both hot and cold beverages. A one-and-a-half-inch wide mouth accommodates full-sized ice cubes and ensures that the mug can be filled easily.
We've also designed these mugs to be durable, using high-quality 18/8 stainless steel and Zojirushi's superior vacuum insulation technology. By removing the air between the outer and inner layers of the stainless steel, heat is blocked from transferring through it, greatly minimizing the temperature change of your beverage. Your drinks stay hot or cold for hours.
The interior features an easy-to-clean nonstick coating and all areas that come into contact with beverages are BPA-free, ensuring that these mugs are safe and hygienic.
The twist-open lid covers the sipping area to maintain cleanliness and the removable plastic mouth ring makes for a more comfortable drinking experience.

Two special gaskets secure the lid on the top and the bottom so that liquids don't seep out. The lid only assembles when the stopper gasket has been attached correctly, which ensures no accidental leaks and helps to prevent the loss of parts. Cleaning is just as simple, as all pieces can be hand washed in mild dish detergent and warm water.
Elegant, lightweight and practical, the Zojirushi Stainless Mug is perfect for every day and every need.
We hope you enjoy using it as much as we enjoyed creating it! Share your comments and photos with us below!